KPM Restoration provides OSHA certified sanitizing and professional disinfection cleaning services to all of Upstate New York and New York City, including Albany, Troy, Schenectady, Saratoga Springs, Syracuse, Utica, Rome, Newburgh, Kingston, Poughkeepsie, Westchester, Rockland and the surrounding NY area. We also service Southern Vermont and Western Massachusetts.
Call now for a free estimate – 518-859-9769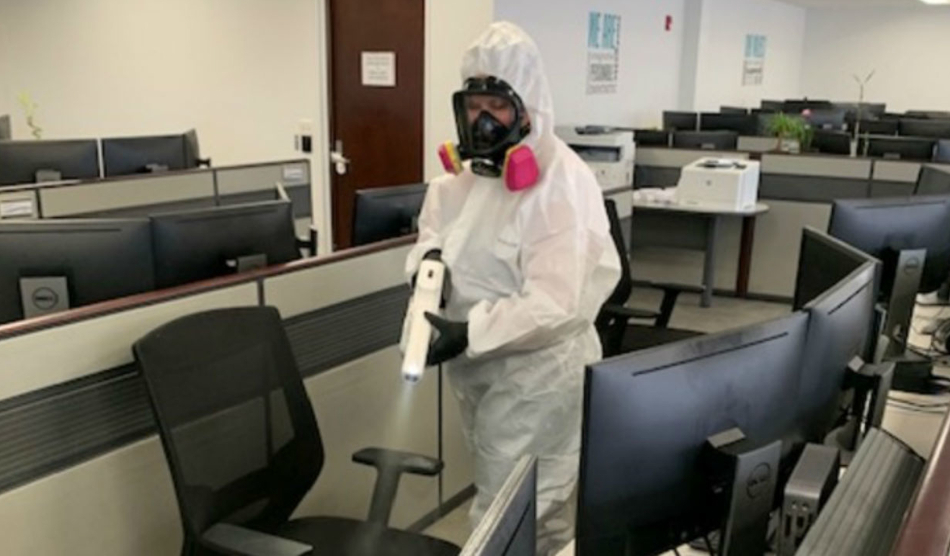 Certified Sanitizing Services
Do you have a plan in place to protect your staff, customers and building occupants from the spread of illness? The grave threat of viruses like Coronavirus, Influenza A, MRSA and Norovirus requires that we take aggressive steps to lesson the risk of contamination. A rigorous disinfection, sanitization and cleaning can do just that.
Our cleaning product kills 99% of viruses and bacteria, including Human Coronavirus, Influenza, Norwalk Virus, SARS, Herpes Complex and HIV-1. The disinfectant will thoroughly sanitize the space, however with the reintroduction of people, the building can become contaminated again. Therefore, it's important to note, that our services only reduce the risk of virus contamination, they don't prevent it.
KPM Restoration is certified by OSHA (Hazwoper40) to sanitize residential, institutional and commercial buildings. It's important to hire a certified sanitizing company not only because they know how to properly sanitize, but also because business owners who hire uncertified companies to sanitize their property can be fined up to $134,937.
Our Sanitization Process
1. First the space must be properly prepared for the disinfectant spray. This means that any ingestible items or items that may be placed in your mouth like toothbrushes, toys and utensils must be stored away. Pets and their food bowls, toys, and beds must be removed as well. All occupants should leave the building while the space is being treated.
2. Next we will use professional grade equipment and cleaning products to disinfect and sanitize the space. Our industrial cleaner will kill 99% of germs.
3. After 30 minutes, the space can be inhabited again. We will then professionally clean the space to remove any left over solution ensuring a safe home or building.
Our services extend to any type of home, facility or commercial building including the following:
Gyms
Golf Courses
Churches
Shopping centers
Schools
Government facilities
Office buildings
Residential homes
Hotels
Airports
Assisted living facilities
Restaurants
Grocery stores
Casinos
Schedule a Disinfection Cleaning
KPM Restoration is ready to help support your business. A fogging disinfection cleaning will eliminate 99% of germs in your space, leading to a healthier environment for employees and customers. We are available 24 hours a day, 7 days a week and can work at night while your building is empty to ensure that our professional cleaning does not disrupt your business operation. Contact us to schedule your daily, weekly, monthly or one time cleaning.
Call us today at 518-859-9769 for a free consultation and estimate.