KPM Restoration is an IICRC certified water damage restoration company that serves Schenectady NY and the surrounding Capital District.
On call 24/7 for Emergency Service
IICRC Certified, Fully Insured and Licensed
We Work With Your Insurance Companies
5 Star Reviews on Google
Speak with a KPM Restoration Water Damage Specialist
Schenectady Water Damage Services
In need of a water damage restoration company in Schenectady NY? KPM Restoration's team of certified water damage professionals are ready 24/7 to respond to water damage emergencies across Schenectady County. As soon as you notice standing water in your home or business, it's best to call a water damage company. They have the training, technology, and equipment to completely remove the water from your home, even hidden moisture. Most building materials such as tiles, carpets, wood floors, and drywall are porous and will absorb water. This could lead to permanent damage and mold growth. The faster you address the issue, the better chance you have to limit the damage.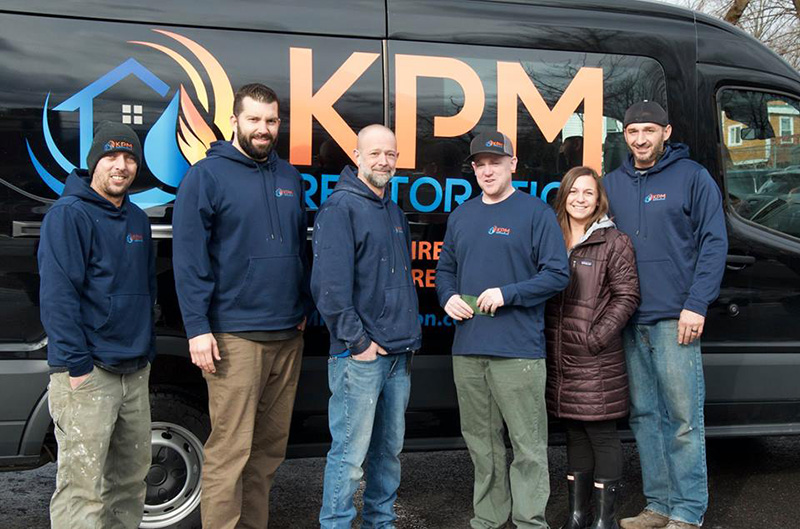 Why Choose KPM Restoration?
24/7 Emergency Water Damage Company
KPM Restoration is available 24/7 with resources located near Schenectady NY, in order to arrive to your home or business within 60 minutes or less to immediately begin the water damage remediation process.
We Work With All Homeowners Insurance Company
We work for you first and foremost, but we also work alongside your insurance company to ensure a smooth claims process. We are on a first name basis with many local insurance adjusters and have a good working relationship with them. Water damage is stressful enough, you don't need to be worrying about mounds of paperwork and insurance policies. We can help give you peace of mind by working hand in hand with your insurance company so that you don't have to pay expenses out of pocket.
Independant Family Owned Business
KPM Restoration is an independent family owned business. We are not a part of a national franchise with headquarters in another state, owned by a large corporation. We live, work, and raise our families in the Capital District and support the community. Our community service during the pandemic was recognized by the Brawny Brand and featured on CBS 6 News. We are also members of the Capital Region Chamber.
Focus on People and Property
We not only take pride in our water damage restoration process, but also in the experience that we provide customers. We know how how stressful a water damage emergency can be for your family. A serious water damage incident can turn your home upside down for a couple of weeks. Our business was started after having a less than satisfactory experience with a well known water damage company. We thought we could do a better job and strive to give customers the best service possible.
5 Star Google Reviews
KPM Restoration makes customer experience our number one priority. From the time that you call our water damage team to when we arrive to begin the water damage mitigation and how we leave your home in better shape than we found it, is of the highest importance to our company. This focus has lead to many 5 star reviews across our review listings on Google, Facebook, Birdeye, Guild Quality and more. We were named by Expertise as one of the best water damage companies in the Capital Region.
Water Damage Causes
Frozen Pipes
Leaky Hot Water Heaters
Leaky Roof Water Damage
Burst Pipes
Toilet Overflows
Leaks From Appliances
Storm Flooding
Schenectady Water Damage Services
Water Cleanup
Water Removal
Dehumidifying
Cleaning and Disinfection
Sewage Backup Cleanup
Flooded Basement Cleanup
Water Damage Repair
Schenectady NY Service Area
KPM Restoration Schenectady serves all of Schenectady County and the surrounding area. This includes the communities of the Rotterdam, Glenville, East Glenville, Pattersonville, Duanesburg, and Scotia. We are on call 24/7 for homeowners and businesses in Schenectady County NY.
About Schenectady
Schenectady, New York is a city located in Schenectady County and has a population of 65,334. The name Schenectady comes from the Mohawk language, and means beyond the pines. Schenectady is famous for once being a manufacturing center for General Electric and the American Locomotive Company. This gave it the nickname The Electric City. There are several universities located in Schenectady including Schenectady County Community College and Union College.
KPM Restoration Schenectady
Contact us today, at any hour, for immediate emergency service. We are here ready to help get you back to normal as quickly as possible. Call now to request your estimate.
KPM Restoration Schenectady
1063 Garner Ave
Schenectady, NY 12309
(518) 954-8683
---
---