Call the experts at (518) 859-9769 if you have a flooded basement, burst pipes or water damage of any kind. We are available 24/7 and can be on site in 45 minutes or less.
We serve Albany, Latham, Schenectady, Rotterdam, Troy, Saratoga Springs, Queensbury, Clifton Park, Hamilton County and the surrounding Upstate New York area.
Does your home or business have water damage? Our experienced and certified water extraction professionals will work quickly to minimize the damage. What may appear on the surface to be a minor issue, can quickly result in extensive damage to both property and health.
Call us now at (518) 859-9769
Free no obligation estimate
24/7 emergency response
45 minute or less response time
Water damage can also lead to the appearance and growth of mold, which not only ruins the walls and furniture but causes serious health problems. Once water damage has occurred, it's very important to fix the problem as soon as possible.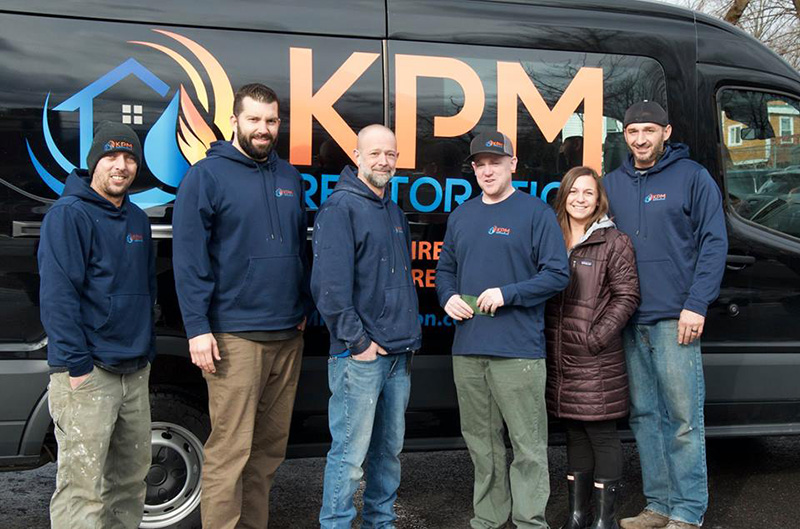 We Work With Your Insurance
The last thing you want to deal with when your home is suffering from water damage is insurance paperwork. We will work directly with your insurance company to help you with the claims process so that you don't have to pay the entire bill out of pocket.
What Our Customers Say
Greg Brunelle
14:35 20 Mar 19
Our sump pump stopped working on a Sunday morning. After calling another restoration firm (one with a national reputation) and not hearing from them for more than an hour, I called KPM. They answered immediately and were on their way quickly. Within a few hours they had addressed the issue and the clean up was well under way. Over the course of the next few days, they were professional, clear in communication, demonstrated expert knowledge of how to clean and what steps to take to minimize the need to tear out walls and flooring. I could not have been happier with their service. They were the perfect company to assist us during a very stressful time. I would not call anyone else and highly recommend KPM.
Saratoga Gelato
21:42 20 Feb 19
Mold company helped me out throughout my entire process. The guys were all licensed and presented there certifications on arrival which made it More comfortable. Kpm was awesome. Use them for your mold remediation
Dan Graham
16:33 11 Feb 19
Amazing service and extremely professional. I was out of town when a leak was discovered in my basement. Their team responded immediately and stayed at my house until 1AM to assure the damage did not spread. Both their plumber and restoration team did a great job. They worked directly with my insurance and even took pictures of the damage for me.
Ann Marie Rollins
11:08 11 Dec 18
It was so nice to work with everyone at KPM Restoration. We had water damage and mold due to a leak. I was was very sensitive to the mold due to heath issues. They were very understanding and accommodating. I worked with Dan, Adam and Gene directly. The job was challenging but they were in communication through the entire process. I was confident that they would make things right again. I even hired them to make some improvements. They installed a new floor on the 1st floor bathroom and a tub unit on the second floor. They were prompt, efficient and great to work with. I would recommend them.
Joe Kennedy
22:17 16 Nov 18
I know this Company very well and they have done nothing but make my life easier with a pipe which burst and we found mold behind the drywall. I was very worried about the mold and they used bald eagle for the assessment and he was very thorough and Kate p.m. began the mold project. Very helpful and great crew.
Jeffrey Smith
13:44 15 Oct 18
KPM Restoration was amazing. The remediation team was courteous and over the top with their professionalism. They worked with me throughout the entire process.
Michael Carey
19:03 07 Oct 18
The team from KPM was top notch in addressing our issue with water in the basement. We had both Dan and James as on site leaders in working with us to assess the problem and figure out the best solution. I never felt pressured and really appreciated the experience they brought to bear in eliminated the source of the water, drying out the basement and encapsulating and removing problem areas. I especially liked their timely response and communication through the process.
Krzysztof Lesnicki
22:17 26 Sep 18
Emergency clean up they performed turned out great! Had a water backup through the toilet in my finished basement late in the evening. KPM was easily reachable by phone and even helped us find a plumber to remedy the issue. Plumber and KPM came out to my house shortly after I made the calls and started the work right away. They were very thorough in the cleanup and disinfection. Tested drywall for any water absorption and removed only what was necessary. All contaminated material was removed and area was dehumidified after cleaning. They were professional and courteous throughout and worked well with the insurance adjuster as well.
Anchor Properties
17:48 29 Aug 18
Kpm restoration did two mold jobs for us at our rental properties and were very responsive, direct and efficient throughout the whole process. I'd recommend them to anyone!
Eric Swanson
20:43 28 Aug 18
I couldn't have been happier with the job KPM Restoration did on our basement. They had a team at my house within an hour at 9 PM on a Friday night and didn't leave until 2 AM. The team (and all 13 blowers and 2 dehumidifiers) worked tirelessly the next 5 days to save the majority of my basement.The KPM team was professional and just overall a pleasure to be around. They truly showed they cared about my house/possessions and their job. Their experience and reassurance throughout the process was exceptional. I hope I never need KPM's services again, but if I do, I know how confident I will be giving them a call and recommending their services to others! Thanks again!
Robert Carr
12:49 08 Jul 18
this past week we had the main sewage line back up into my basement. Kpm restoration responded immidately and was able to clean up and disinfect everything quickly and professionally. Can't thank them enough for the great service!
gallagherjamie
00:13 07 Jun 18
We discovered mold in our attic and needed it removed in a jiffy. KPM came to the rescue! They were timely and very professional. ThankYou for the good work guys!
Joey Condon
17:33 27 May 18
I recently had a very bad mold issue and contacted KPM restoration. They were very professional and helpful. They talked me through the whole process and updated me on any important issues, gave me options and told what they thought was best. I definitely recomend this company for any major issues.
Jason Federico
22:20 03 Apr 18
KPM Restoration is a great example of a quality restoration company. If you are in need of experienced, knowledgeable and professional restoration services, check them out!
Jerry Latimore
15:37 09 Mar 18
Very satisfied with their mold remediation and rebuild services. I had a small water leak from my bathtub that overtime caused to black mold in between the walls. KPM cleaned up the mold and took care of the rebuild process. Reasonable price and quick efficient work.
Next Reviews
Common Causes of Water Damage
Frozen, burst, or leaky pipes
Malfunctioning household appliances (washing machines, dishwashers and refrigerators
Leaky hot water heaters
Ice water dams
Clogged drains
Crawlspace, flooded basement or attic water buildup from leaky roofs and windows
Overflowing bathtubs, toilets and sinks
Water Extraction and Drying Process
Once a home or business is affected by a water damage, the immediate water removal is critical for the repair and restoration of furniture, carpets, floors and other damaged goods and surfaces. Therefore, only an experienced certified water damage restoration team can handle the situation properly to minimize the damages. Our professionals understand that speed is of paramount importance when it comes to water removal and damage repair.
Detection of hidden moisture is critical for successful water damage restoration. We provide timely water removal from the damaged items and surfaces, proper ventilation and dehumidification of the affected area. Only professional equipment makes it possible to detect where the moisture is hidden, and thus preventing secondary water damage. When the water removal and damage restoration is done, our team monitors the damaged area for any moisture left to guarantee that dehumidification is achieved.
Need Help With The Rebuild Process?
More often than not, your home will need repairs after water damage. KPM Restoration offers the following rebuild service:
Flooring
Drywall
Interior painting
Exterior painting
Getting You Back to Normal
Due to the devastating nature of water damage to families or businesses, we do whatever it takes to give back a sense of security with minimal disruption. Our recovery and restoration process is aimed at property and people.  Our treatment always includes respectful handling of property as if it were our own. We respect all of your home's contents with the utmost care. You can rely on us to minimize the impact of flooding and water damage.
Call us today at 518-859-9769 for an estimate.