Has your home or business suffered from smoke or fire damage? Give us a call now at (518) 859-9769 for a free estimate.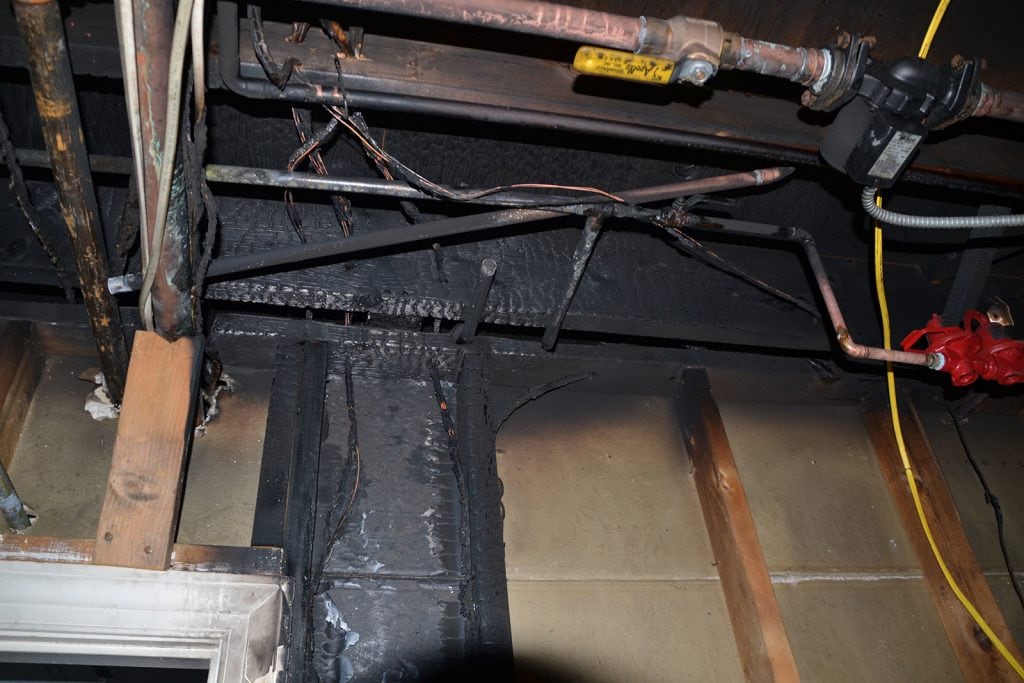 Professional Fire Damage Restoration
When fire strikes, it can be devastating. KPM Restoration works quickly to restore your apartment, home, or business to its pre-loss condition. Our fire damage restoration services include board up, roof tarping, smoke damage cleaning, and deodorization of affected contents. We also clean puff back soot damage from furnaces and water heaters.
We Work With Your Insurance Company
The process begins with meeting with you and your adjuster to discuss how to best accomplish your restoration situation. For example, is the best option for items restoration, repair, or replacement? If necessary, we will pack out and move your possessions to our safe and secure off-site location. At our facility, we can begin cleaning, restoring, and deodorizing the damaged items and store the rest of your possessions safely during the structural restoration.
During the entire process, we communicate with you, your adjuster, and agent to be sure that your insurance claim progresses as agreed to ensure your ultimate satisfaction.
Reviews From Our Customers
KPM was a pleasure to work with. Incident occurred on a Friday night. They came to my house immediately and worked well in to the morning hours to help remediate and resolve. The team was very polite and professional. They took the time to explain the plan, while flawlessly executing. They protected my carpets and walkways utilizing ram board and stair protectors. They stopped by and checked in daily to ensure things were progressing as planned. Would certainly use KPM again in the future and highly recommend!!
stephanie dechene
20:56 17 Aug 21
Excellent staff/service. Showed up on time and as scheduled daily until the job was complete. Communication has been excellent. Really helped provide what we needed for the insurance claim process from start to finish. Dan and staff helped put our minds at ease. Highly recommend and would be our first call again if needed. Steph and Grant Dechene
My wife flushed down a container of beef stew and it backed up in the septic system and overflowed through our basement shower downstairs. It was days before we realized that the sewage water was coming into our basement, as we don't go down there every day. It was a major flood in our basement that ruined many things, including the full basement carpet. KPM came in and calmed us down right from the beginning, helped us with the insurance claim and of course the clean up. They were exceptionally professional about their job from start to finish! I highly recommend them! The owner was on site from start to finish as well, which I thought was very impressive
Dexter Johnson
06:54 25 Jul 21
Angela Morales
17:02 12 Jun 21
My Mom's sump pump failed flooding her basement. She lives Upstate NY and I live in Virginia Beach, VA. I knew it would be tough on my Mom to handle all the negotiations with the Plumber, Restoration folks, and insurance, so I did it all from Virginia. KPM was marvelous! They were so caring and diligent to call be before knocking on my Mom's door, and to inform me of the progress of the restoration efforts. Not only was my Mom pleased with their professionalism and service, but I was too from so far away. I truly appreciated their willingness to call me and keep me informed via phone and email. They made dealing with this flood stress-free! I have worked with contractors before, and I can honestly say, KPM is head and shoulders above! Thanks KPM! I truly recommend your services when someone is in need!
Smoke and Soot Cleaning
Our team is certified to clean items damaged by smoke and soot. Smoke and soot may combine with humidity and moisture to create significant secondary damage from corrosive residue.
Smoke cleaning and restoration of your structure and contents may also be necessary in the event of a small, non-destructive fire. In these cases, the most harm can be done by smoke and soot from the fire. Residual smoke and soot can etch household items, making restoration very difficult. That is why it is extremely important to address these situations as soon as possible to minimize secondary damage.
KPM Restoration provides service to Albany, Troy, Saratoga, Warren, Bennington, Washington, Schenectady, Rensselaer counties, and the surrounding upstate New York area.
Call us today at 518-859-9769