Has your home or business suffered from smoke or fire damage? Give us a call now at (518) 859-9769 for a free estimate.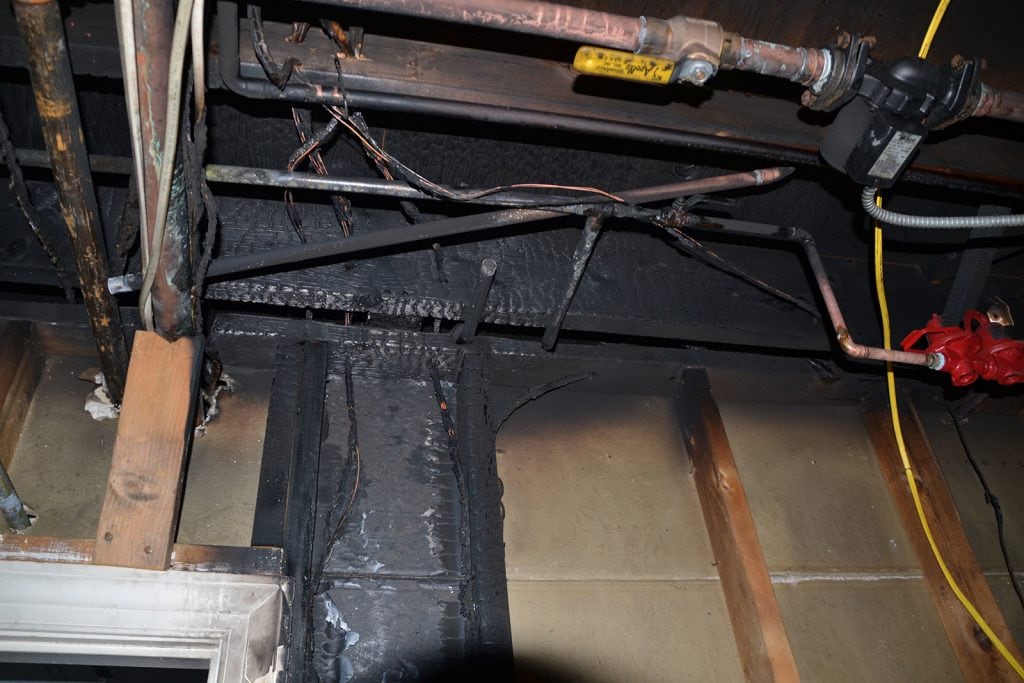 Professional Fire Damage Restoration
When fire strikes, it can be devastating. KPM Restoration works quickly to restore your apartment, home, or business to its pre-loss condition. Our fire damage restoration services include board up, roof tarping, smoke damage cleaning, and deodorization of affected contents. Carpets and draperies may also needed to cleaned.
We Work With Your Insurance Company
The process begins with meeting with you and your adjuster to discuss how to best accomplish your restoration situation. For example, is the best option for items restoration, repair, or replacement? If necessary, we will pack out and move your possessions to our safe and secure off-site location. At our facility, we can begin cleaning, restoring, and deodorizing the damaged items and store the rest of your possessions safely during the structural restoration.
During the entire process, we communicate with you, your adjuster, and agent to be sure that your insurance claim progresses as agreed to ensure your ultimate satisfaction.
Reviews From Our Customers
Jeffrey Smith
13:44 15 Oct 18
KPM Restoration was amazing. The remediation team was courteous and over the top with their professionalism. They worked with me throughout the entire process.
Michael Carey
19:03 07 Oct 18
The team from KPM was top notch in addressing our issue with water in the basement. We had both Dan and James as on site leaders in working with us to assess the problem and figure out the best solution. I never felt pressured and really appreciated the experience they brought to bear in eliminated the source of the water, drying out the basement and encapsulating and removing problem areas. I especially liked their timely response and communication through the process.
Krzysztof Lesnicki
22:17 26 Sep 18
Emergency clean up they performed turned out great! Had a water backup through the toilet in my finished basement late in the evening. KPM was easily reachable by phone and even helped us find a plumber to remedy the issue. Plumber and KPM came out to my house shortly after I made the calls and started the work right away. They were very thorough in the cleanup and disinfection. Tested drywall for any water absorption and removed only what was necessary. All contaminated material was removed and area was dehumidified after cleaning. They were professional and courteous throughout and worked well with the insurance adjuster as well.
Anchor Properties
17:48 29 Aug 18
Kpm restoration did two mold jobs for us at our rental properties and were very responsive, direct and efficient throughout the whole process. I'd recommend them to anyone!
Eric Swanson
20:43 28 Aug 18
I couldn't have been happier with the job KPM Restoration did on our basement. They had a team at my house within an hour at 9 PM on a Friday night and didn't leave until 2 AM. The team (and all 13 blowers and 2 dehumidifiers) worked tirelessly the next 5 days to save the majority of my basement.The KPM team was professional and just overall a pleasure to be around. They truly showed they cared about my house/possessions and their job. Their experience and reassurance throughout the process was exceptional. I hope I never need KPM's services again, but if I do, I know how confident I will be giving them a call and recommending their services to others! Thanks again!
Robert Carr
12:49 08 Jul 18
this past week we had the main sewage line back up into my basement. Kpm restoration responded immidately and was able to clean up and disinfect everything quickly and professionally. Can't thank them enough for the great service!
gallagherjamie
00:13 07 Jun 18
We discovered mold in our attic and needed it removed in a jiffy. KPM came to the rescue! They were timely and very professional. ThankYou for the good work guys!
Joey Condon
17:33 27 May 18
I recently had a very bad mold issue and contacted KPM restoration. They were very professional and helpful. They talked me through the whole process and updated me on any important issues, gave me options and told what they thought was best. I definitely recomend this company for any major issues.
Jason Federico
22:20 03 Apr 18
KPM Restoration is a great example of a quality restoration company. If you are in need of experienced, knowledgeable and professional restoration services, check them out!
Jerry Latimore
15:37 09 Mar 18
Very satisfied with their mold remediation and rebuild services. I had a small water leak from my bathtub that overtime caused to black mold in between the walls. KPM cleaned up the mold and took care of the rebuild process. Reasonable price and quick efficient work.
Next Reviews
Smoke and Soot Cleaning
Our team is certified to clean items damaged by smoke and soot. Smoke and soot may combine with humidity and moisture to create significant secondary damage from corrosive residue.
Smoke cleaning and restoration of your structure and contents may also be necessary in the event of a small, non-destructive fire. In these cases, the most harm can be done by smoke and soot from the fire. Residual smoke and soot can etch household items, making restoration very difficult. That is why it is extremely important to address these situations as soon as possible to minimize secondary damage.
KPM Restoration provides service to Albany, Saratoga, Warren, Bennington, Washington, Schenectady, Rensselaer counties, and the surrounding upstate New York area.
Call us today at 518-859-9769