Has your home or business suffered from smoke or fire damage? Give us a call now at (518) 859-9769 for a free estimate.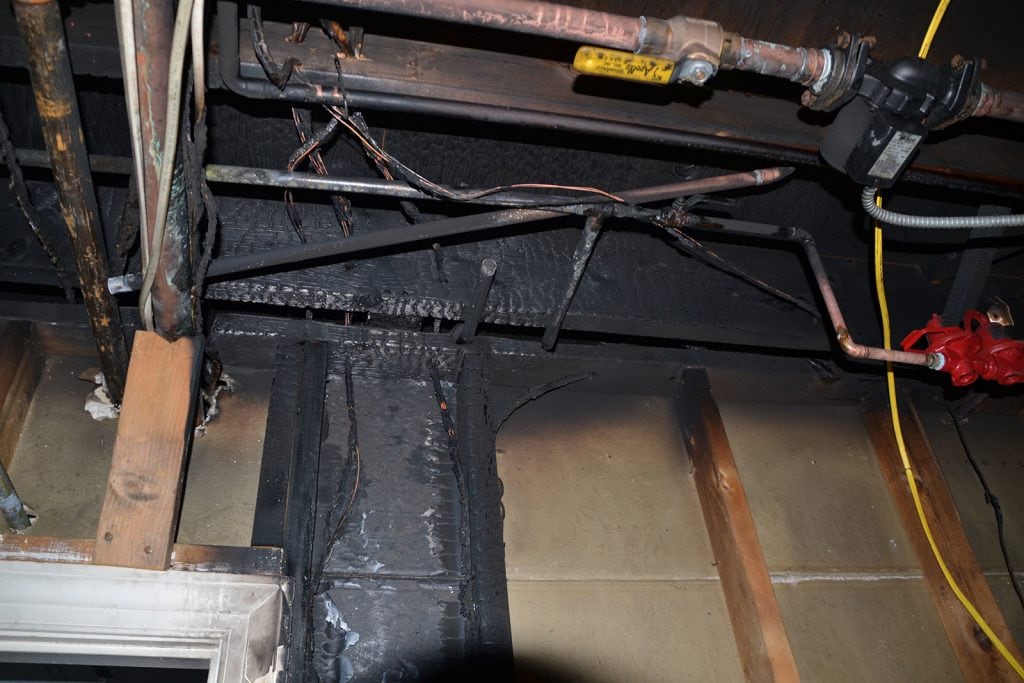 Professional Fire Damage Restoration
When fire strikes, it can be devastating. KPM Restoration works quickly to restore your apartment, home, or business to its pre-loss condition. Our fire damage restoration services include board up, roof tarping, smoke damage cleaning, and deodorization of affected contents. We also clean puff back soot damage from furnaces and water heaters.
We Work With Your Insurance Company
The process begins with meeting with you and your adjuster to discuss how to best accomplish your restoration situation. For example, is the best option for items restoration, repair, or replacement? If necessary, we will pack out and move your possessions to our safe and secure off-site location. At our facility, we can begin cleaning, restoring, and deodorizing the damaged items and store the rest of your possessions safely during the structural restoration.
During the entire process, we communicate with you, your adjuster, and agent to be sure that your insurance claim progresses as agreed to ensure your ultimate satisfaction.
Reviews From Our Customers

Meghan MacMillin
00:11 16 Mar 21
A week after we closed on our house a pipe burst and completely flooded our garage and stairwell. I called KPM on a Friday and the owner James came out Saturday morning to do an inspection. They worked with my insurance company to make sure everything would be covered and were very responsive to all of my questions. Once they got everything dry (no easy feat in the dead of winter), they were able to do all of the repairs and renovations within a few days. They were respectful, always showed up in time, and left everything clean and better than it looked before!

Amanda Stafford
22:21 12 Mar 21
The men who came to respond to my emergency flood were incredibly prompt and professional. They were incredibly calming and reassuring. Very kind and thorough.

Donna Ketz
17:46 06 Mar 21
KMP Restoration was hired to provide mold removal services and complete a partial rebuild of interior wall and ceiling. The crew was professional, conscientious, and thorough. From day one, when Rob, Eli, and John came, they were very timely and went straight to work. Jim and Tommy complete the rebuild, and did an expert job at taping, mudding, and sanding the drywall. I received compliments on Jim's finishing of the drywall. All areas were covered in protective plastic to prevent damage and keep clean from dirt and debris. All my questions were answered, and the crew was very polite. I would recommend their service.

I hired KPM after discovering my water heater had rusted out and there was mold in the surrounding walls from seeping water. After a prompt cleanup and mold mitigation, the drywall was replaced in the utility closet and adjacent bathroom. Dan arranged for the rebuilding of part of my bathroom and Jim did a great job on that.There was a time lag while my bathroom vanity cabinet had to be replaced; my only regret was that some of the parts which could have been kept were inadvertently discarded. But in the end, I had a dry and well-finished room and utility closet. Dan gave me a fair price. He also worked with my insurance company to help me with my claim.I wouldn't hesitate to recommend KPM!

Ben Sequeira
12:00 19 Feb 21
Best in the business! KPM is our exclusive contractor for all of our insurance agencies claims. Jamie and his team pay close attention to detail and are always so easy to work with!
Smoke and Soot Cleaning
Our team is certified to clean items damaged by smoke and soot. Smoke and soot may combine with humidity and moisture to create significant secondary damage from corrosive residue.
Smoke cleaning and restoration of your structure and contents may also be necessary in the event of a small, non-destructive fire. In these cases, the most harm can be done by smoke and soot from the fire. Residual smoke and soot can etch household items, making restoration very difficult. That is why it is extremely important to address these situations as soon as possible to minimize secondary damage.
KPM Restoration provides service to Albany, Troy, Saratoga, Warren, Bennington, Washington, Schenectady, Rensselaer counties, and the surrounding upstate New York area.
Call us today at 518-859-9769