KPM Restoration is an IICRC certified water damage restoration company that serves Glens Falls NY and the surrounding Capital District.
Available 24/7 for Emergency Service
IICRC Certified, Fully Insured and Licensed
Local and Family Owned
We Work With Your Insurance Company
5 Star Reviews on Google
Speak with a KPM Restoration Water Damage Professional
Glens Falls Water Damage Restoration Company
In need of a water damage restoration company in Glens Falls NY or the surrounding Warren County area? KPM Restoration's team of certified water damage professionals are ready 24/7 to respond to water damage emergency in Warren County. As soon as you notice standing water in your home or business, it's important to call a water damage company right away. KPM Restoration has the training, technology, and equipment to completely remove the water from your home, even hidden moisture. Most building materials such as tiles, carpets, insulation, wood floors, and drywall are porous and will absorb water. This could lead to permanent damage and mold growth. The faster you address the issue, the better chance you have to limit the damage.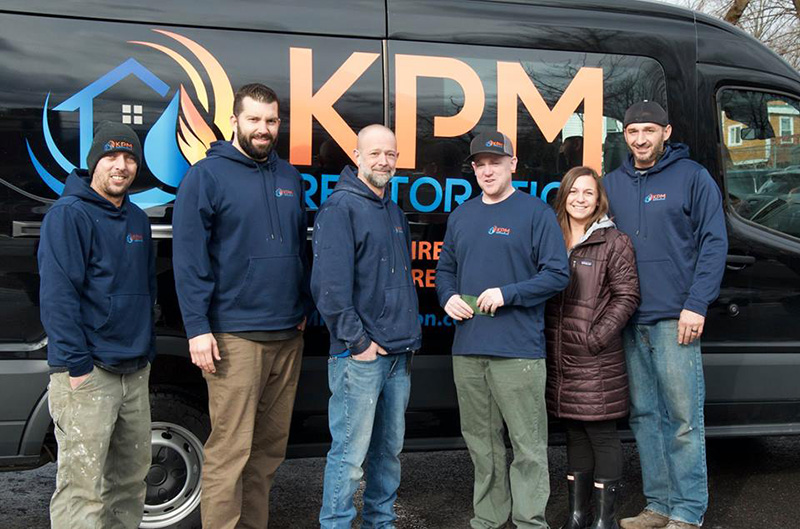 Why Choose KPM Restoration?
24/7 Emergency Water Damage Company
KPM Restoration is available 24/7 with resources located near Glens Falls, in order to arrive to your home or business within 60 minutes or less to immediately begin the water damage mitigation process.
We Work With Most Homeowners Insurance Company
We work for you first and foremost, but we also work alongside your insurance company to ensure a smooth claims process. We are on a first name basis with many insurance adjusters in the Capital Region and have a constructive working relationship with them. Water damage is stressful enough, you don't need to be worrying about paperwork and insurance policies. We can help give you peace of mind by working hand in hand with your insurance company so that you don't have to pay expenses out of pocket.
Independent Family Owned Business
KPM Restoration is an independent family owned business. We are not a part of a national franchise with headquarters in another state, owned by a large corporation. We live, work, and raise our families in the Capital District and support the community. Our community service during the pandemic was recognized by the Brawny Brand and featured on CBS 6 News. We are also members of the Adirondack Chamber of Commerce.
Focus on People and Property
We not only take pride in our water damage restoration process, but also in the experience that we provide customers. We know how how stressful a water damage emergency can be for your family. A serious water damage incident can turn your home upside down for a couple of weeks. Our business was started after having a less than pleasant experience with a local water damage company. We thought we could do a better job and strive to give customers the best service possible.
5 Star Google Reviews
KPM Restoration makes the customer experience our number one priority. From the time that you call our water damage team to when we arrive to begin the water damage mitigation and how we leave your home in better shape than we found it, the customer experience is of the highest importance to our company. This focus has lead to many 5 star reviews across our review listings on Google, Facebook, Birdeye, Guild Quality and more. We were named by Expertise as one of the best water damage companies in the Capital Region.
Water Damage Causes
Frozen Pipes
Leaky Hot Water Heaters
Leaky Roofs
Burst Pipes
Toilet Overflows
Leaks From Faulty Appliances
Basement Flooding From Storms
Water Damage Services
Water Cleanup
Water Removal
Water Damage Mitigation
Cleaning and Disinfection
Sewage Backup Cleanup
Flooded Basement Cleanup
Water Damage Repair
Is there always mold with water damage?
Do water leaks result in mold growth? Excess moisture and water damage like leak pipes or flooded basements increase the chance of mold appearing. However, this depends on a variety of factors, including how quickly the water was removed, how thoroughly the water was dried, the amount of time the water was affecting the surfaces. KPM Restoration is a licensed and certified mold remediation company that can remove any mold from any part of your home.
Does homeowners insurance cover water damage?
Generally, most homeowners insurance policies cover water damage that is internal, sudden and accidental. The exceptions are often water that comes from outside the home such as water flooding into a basement after a storm. However, this all depends on your policy. KPM can work with your insurance company in the case that your claim is covered.
Warren County Service Area
KPM Restoration serves all of Warren County and the surrounding area. This includes the communities of the Glens Falls, Queensbury, Lake George, Warrensburg, Chestertown, Lake Luzerne. We are on call 24/7 for homeowners and businesses in Warren County NY.
About Glens Falls
Glens Falls is the county seat of Warren County, New York. The population was 14,700 at the 2010 census. The name was given by Colonel Johannes Glen, the fall down which Glen Creek flows between two mountains. The city of Glens Falls is surrounded by the town of Glens Falls and the villages of Hudson Falls and South Glens Falls. The plethora of parks, playgrounds, and sports fields make it a great place to keep active. For runners, skiing, or walking, there are trails in Crandall Park and Cole's Woods. Nearby cities, Queensbury and Lake George offer many lakes, streams and beaches with easy access to water for swimming.
KPM Restoration
If you live in the Glens Falls, NY area and are in need of water damage restoration, we're ready to help! Call us at 518-859-9769 or fill out a form for to request an estimate.
Contact us today 24 hours a day, 7 days a week for immediate emergency service. We have offices in Lake George and Saratoga County so that we can arrive quickly to your home.
---
---